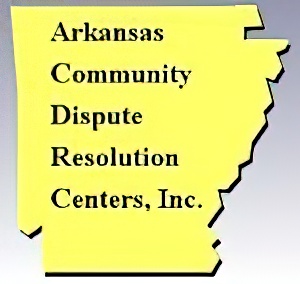 Arkansas Community Dispute Resolution Center
ACDRC

Click here to email
Click for Full Website
3805 West 12th Street, Suite 201
Willie L. Hinton Neighborhood Resource Center
Little Rock, AR 72204
USA
(501) 379-1501
Fax: (501) 664-9544
MEMBER OF:

Description of Practice
Arkansas Community Dispute Resolution Centers, Inc. (ACDRC) was incorporated as a non-profit organization in February 2004 and became the first state-wide community dispute resolution center in Arkansas. ACDRC's mission is to promote the usage of peaceful and cooperative conflict resolution strategies in order to make mediation and other dispute resolution methods accessible to all Arkansans regardless of ability to pay. ACDRC advances conflict resolution in Arkansas by educating the public through services, training, creating new centers and networking. ACDRC facilitates the resolution of disputes for all members of our community by collaboration with individuals, community organizations, court systems, police departments, businesses and government agencies.
Professional Background
ACDRC is guided staff and a Board of Directors that is supported by an Advisory Board. The Board is comprised of a diverse group of senior ADR professionals and community residents. The Advisory Board is also comprised of a diverse group of individuals who provide ACDRC assistance in their various areas of expertise. ACDRC shall use trained (40 Hrs Basic, 20 Hrs Family, specialized training, and attended ACDRC Volunteer training) supervised volunteers to facilitate resolution of all types of community disputes. ACDRC currently has a roster of approximately 50 trained volunteers who have experience in all practice areas.
Approach
ACDRC staff and volunteers primarily utilize the facilitative approach to mediation. ACDRC staff is knowledgeable in all approaches to mediation and can assist ACDRC clients in selecting other mediation models and approaches for their case.
Fees
No one is ever turned away due to inability to pay for ACDRC services. The cost for ACDRC's services is based on a sliding fee scale which is based upon annual income.
Areas of Practice
ADA
Adoption
Adult Family
Business
Civil (general)
Commercial
Community
Congregational
Construction
Contracts
Criminal
Cross Cultural
Divorce (all issues)
Divorce (parenting)
Education
EEOC
Elder
Employment
Engineering
Entertainment
Environmental
Estate Planning
Family
Franchise
General
Health Care
Insurance
Intellectual Property
International
Labor - Management
Land Use
Landlord - Tenant
Legal Malpractice
LGBTQ
Marital Mediation
Medical Malpractice
Native American
Organizational
Partnership
Personal Injury
Police
Postal Service
Probate
Professional Fees
Public Policy
Real Estate
Securities
Social Security
Special Education
Tax
Technology
Trust Management
Victim - Offender
Workers Comp
Workplace
Professional Services
Mediator
Advanced Mediation Trainer
Collaborative Professional
Communication Skills Trainer
Facilitator
Parenting Coordinator
Systems Designer
Fact-Finder
Mediator-Arbitrator
Mediation Consultant
Mediation Trainer
Conflict Coach
Online Mediator
Staff Developer
Mediating Lawyer
References