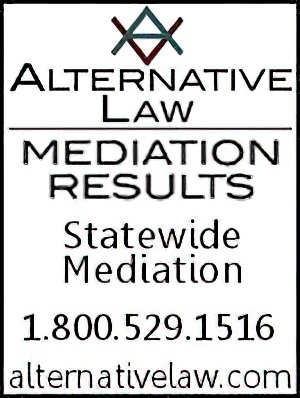 Frank Fallon
ALTERNATIVE LAW MEDIATION RESULTS

Click here to email
Click for Full Website
Call for one of our local state-wide locations
Full Service Offices, -
USA
800.529.1516
MEMBER OF:







Description of Practice
As the industry leader with offices in every state, Alternative Law Mediation Results has settled thousands of cases. We are the only full service mediation firm to offer a 100% money back guarantee. We specialize in business, class actions, family business, employment,HR, insurance, partnerships, contracts, construction, real estate, ERISA, succession planning and financial mediation for businesses and individuals. One of a select private mediation firms in country that serves as federal mediators for the U.S government, large & small companies family businesses and law firms, we offer a free initial consult and set the highest practice standards. Because of our record of success, settlement rate and client satisfaction with plaintiffs, defendants, businesses and their legal counsel, Alternative Law has been awarded the designation of Outstanding Mediation Firm from the United States and the EEOC. Our featured mediator is Frank Fallon. As mediator, negotiator, arbitrator, and private judge Mr. Fallon's methods focus on multi disciplinary approaches promoting both balanced settlement results and client satisfaction.
He has also served as a neutral in complex cases in areas such as family business, contracts, labor, employment, insurance, construction, personal injury, class actions, unions, banking, real estate, general liability, health care, medical & legal malpractice, finance, partnerships, estates, education, and technology. Frank co-developed the innovative, interactive award winning 'best ideas win' settlement program. Mr. Fallon settles 94% of his case
Professional Background
All of our professional male and female mediators have been trained by approved centers either U.S Government Agencies, American Bar Association, Harvard Law School, University Of Massachusetts or other approved and nationally recognized entities. In addition, Frank Fallon has also been trained by the following institutions:
Harvard Law School's Negotiation Program with Roger Fisher;
Harvard Law School's Mediation Program with Frank Sander;
Cornell University, U.S. Mediation EEOC; Mediator & Faculty National TAPS Leading Program Panelist for Defense, Plaintiff Attorneys & HR Professionals;
Arbitration Studies and Analysis, Richard Boutewell;
U.S. Department of Justice; Mediator ADR Panelist;
Divorce Mediation, Diane Neumann;
University of Massachusetts at Boston, Degree in Mediation;
Mediation Works Inc., C.Doran; CDSC Training, Gail Packer;
Transformative training, Melissa Broderick;
Negotiation, David Matz;
Mediation & Dispute Resolution Ethical Issues, Brad Honoroff;
Cross Cultural Issues UMASS Program;
Harvard University Program on Negotiation; Mediation Pedagogy Development / Lawrence Susskind, David Hoffman, Bruce Patton. Mediation Masters Program; MAM, Maine Mediators;
Maine Human Rights Commission, Lead Neutral, serving individuals , small businesses, Fortune 500 Companies, defense and plaintiff bars.
Experience
Our firm is staffed by male and female mediators all across America. Alternative Law is a full service firm staffed by professional neutrals that have mediated thousands of cases of all types, including commercial, corporate, contract, employment, civil rights, insurance, personal injury, class actions, education, unions, labor relations, technology, taxes, financial, partnership, small business, family business, divorce, and government issues.
Degrees
Mr. Fallon is a member of the ABA and is one of the very select full time mediation professionals in the country, who is certified to work with the government and private business as a neutral. He has a degree in the practice of mediation, which he received from the University of Massachusetts. He has also been trained at the following institutions:
Harvard Law School's Negotiation Program, with Roger Fisher;
Harvard Law School's Mediation Program, with Frank Sander;
Cornell University;
U.S. Government Mediation; Equal Employment Opportunity Commission, EEOC;
Mediator & Faculty independent for the for National TAPS Program for Defense, Plaintiff Attorneys, and Human Resource Professionals;
Arbitration Studies and Analysis with Richard Boutewell.
Approach
We are a government approved mediation firm that has an unparalleled success ratio with plaintiffs, defendants, and their law firms. We use our nationally recognized mediation approach developed by Frank Fallon of our company called "The Best Ideas Win." We specialize in a comprehensive multi faceted problem solving style to settle difficult cases. Our mediation approach provides resolution through an open, intergrated, facilitated discussion designed to specifically respond to each set of facts and the needs of the parties. We settle over 90% of all of our cases.
Fees
Fees range from $100 to $500 per hour per party, depending upon the case. As part of our community give-back and pro bono programs, we provide discounts to non-profit organizations, developing small businesses, Veterans, disadvantaged clients, community groups, educational and medical institutions. Please call for a free quote and analysis.
Other Information
Our services come with a complete money back Satisfaction Guarantee. We are the industry leader in client satisfaction services. Client satisfaction is assured.
Areas of Practice
ADA
Adoption
Adult Family
Art
Autism
Automotive
Aviation
Bioethics
Business
Civil (general)
Commercial
Community
Congregational
Construction
Contracts
Copyright
Cross Cultural
Divorce (all issues)
Divorce (parenting)
Education
EEOC
Elder
Employment
Energy
Engineering
Entertainment
Environmental
Estate Planning
Family
Foreclosure
Franchise
General
Health Care
Insurance
Intellectual Property
International
Labor - Management
Land Use
Landlord - Tenant
Legal Malpractice
LGBTQ
Marital Mediation
Maritime
Medical Malpractice
Native American
Natural Resources
Online Mediation
Organizational
Partnership
Patent
Personal Injury
Police
Postal Service
Probate
Professional Fees
Public Policy
Real Estate
Securities
Social Security
Special Education
Tax
Technology
Trademark
Trust Management
Victim - Offender
Workers Comp
Workplace
Professional Services
Mediator
Ombud
Conflict Coach
Strategic Planning
Mediating Lawyer
Collaborative Professional
Facilitator
Online Mediator
Parenting Coordinator
Advanced Mediation Trainer
Custody Evaluator
Communication Skills Trainer
Systems Designer
Counselor
Estate Planner
Fact-Finder
Mediator-Arbitrator
Mediation Consultant
Mediation Trainer
Psychotherapist
Representational Lawyer
Staff Developer
References
This dispute resolution professional keeps professional liability insurance.